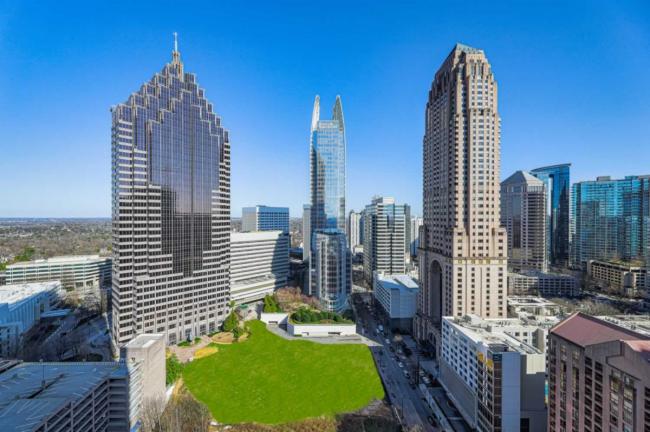 In the past, people believed that a physical office was necessary for a business to grow. And it was right as computers were not portable and were quite expensive for a person to own. But in the present world, especially after 2020, renting virtual offices in Atlanta has expanded. If you want to rent an office in Atlanta, we support your business, as your success is our success. We enable companies to find a perfect and unique space so that you can work without any hassle. Hire us if you want to give your workers access to an office closer to home in Atlanta.
As virtual offices are becoming more popular, you should be aware of them. It is a service that enables employees and business owners to work remotely by allowing workers to access different business functions through the internet. Simply put, it is a location from where you can use a professional business center's services and address without being present.
Things to Consider While Renting a Virtual Office in Atlanta
With time, online businesses are becoming more common. It is because they require less investment and show more successful results. With the advancement in the present era, performing tasks remotely is becoming more confident as it has provided the best solutions to every type of industry. When all your employees are working remotely, there is no need to have a physical office as it will only be a waste of money. To solve this problem, virtual offices in Atlanta come into the picture. The following are some points you should keep in mind while renting an office.
Perfect location for your office
The location of your office is the first thing that can create a good or an awful impression on your client. For example, your client will doubt your abilities and skills if you are a lawyer, and your office is not located in Atlanta's most iconic office building. The other thing you should also consider is the distance and accessibility to the office from your residency. Finding the best virtual office in Atlanta, GA can be tricky and requires a lot of research, which demands time. And most business leaders don't have enough time for that.
Nexus 1201 will help you find a location according to your desire and demands. We must provide you with a place that has a professional and friendly environment along with corporate mailing address, mail and package collection, local telephone number, Wi-Fi/Internet, facility of printing/scanning/shipping, and many more so that your work keeps on going without any interruption.
Comfortable conference or meeting room
It is essential to have a professional meeting room in your office. Though you do not need it at the present phase of your business, you will find it handy when your business grows in the future because a good conference room makes the best impression on your clients. They will find it quite professional and will trust you for their work. As a result, you will be able to grab more successful deals in the future. We can help you to find an office with a professional environment within an affordable range that will give you an upper hand over your competitors.
Hidden charges
When selecting an office space for rent in Atlanta, you must sign an official document with the property owner. It will help if you read every clause of that document carefully, ensuring that no hidden charges are added that can disturb you in the future. Everything should be clear at the time of renting an office space. Contact a rental agency whom you can trust.
Conclusion
If you want an office address and office-related services at a pocket-friendly cost, you can contact us, and we will do our best not to disappoint you. We have three pricing packages you can check on our website and choose according to your needs and demands.
Frequently Asked Questions
Is a virtual office considered a rent expense?
A virtual office is one of the main components that add to the productivity and management of your business. It is just like any other expense like telephone bills, Internet charges, office supplies, or other bills necessary to run a business
What features of your virtual office are most valuable to you?
The most common features of virtual offices are listed below:
It is important that you have a registered business address which is only possible if you have a virtual office registered with the name of your business. A virtual office in Atlanta can be of significant help in this regard.
A business requires mail forwarding and both handling which requires a permanent address which a virtual office adds. 
It provides you with workspace services that allow you to work conveniently. Also, you can hold meetings with your employees and make a strategic plan for your business
What are the advantages of a virtual office?
Having a virtual office has a lot of advantages, including no commute time, lower overhead costs, remote workers, higher productivity, and technology costs. You can reduce expenses and invest more in developing your business.