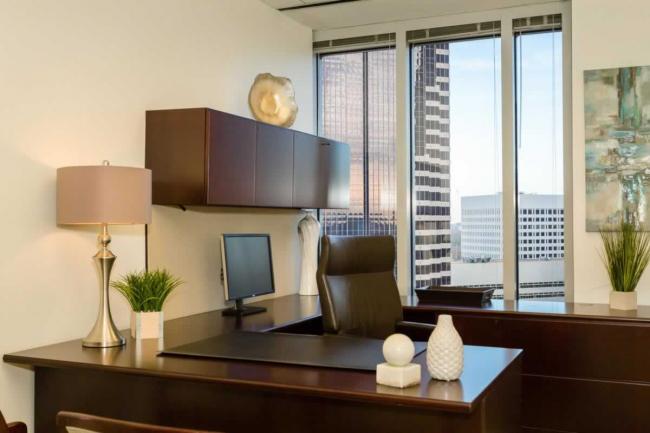 If you are still unfamiliar with the benefits of a virtual office in Atlanta, we can help you make the most of it!
Virtual office space is not some unrealistic office space, but it is a professional office space, made to provide to your physical and remote business needs. Businesses can easily acquire virtual office space for rent in Atlanta when they want a peaceful and professional working environment. You can easily manage your remote staff in a virtual office because it comes equipped with executive suites and meeting rooms that you can use right away.
Therefore, even if your e-commerce company is working with a client located in a different part of the world, they will be able to simply contact them and hold a business meeting in one of the executive suites that are available for rent in Atlanta's virtual office.
As an e-commerce business owner, you are losing the ultimate benefits of virtual office space. We are here to unravel some of the greater benefits of virtual offices in Atlanta so you can make the most out of them.
Saves up Commute Costs

If you are a newly established e-commerce business, you may be looking for ways to cut costs wherever you can. Having a virtual office in Atlanta could save you a lot of money. Renting a virtual office space is far more cost-effective than renting physical office space because it allows you to adjust to your new work environment without spending so much time commuting.
Moving to a new location and then establishing your business can consume a significant amount of resources and time.
With a virtual office location, you can avoid these extra costs and easily have a makeshift virtual setting ready anytime you have a meeting with a big client. This does not imply that you will not receive a physical building address. The best part about it is that you can select a local virtual office in Atlanta near your location, so it would be less costly for you to commute to it on important meeting days and it would save you your daily commute time.

Virtual Offices Air Professionalism:

When you have a professional meeting with a client, having a virtual office in Atlanta with all the Nordic furniture and professional backgrounds can help you make a great professional impression on your clients.
It is very impressive for an e-commerce business to have a full-fledged setup in such a brief time, and your virtual office in Atlanta can help you achieve that.
A virtual office will lend an air of professionalism to your e-Commerce business. This will also help you form a good impression on your clients, which will end up being favorable for your company. You will get glowing reviews from your clients for all the well done work.
Overall, with a good representation of your brand's image in the market, you can compete among corporate sharks with much more confidence. This also accentuates your brand's credibility by many folds.

Prestigious Meeting Rooms:

You don't have to create a makeshift meeting and board room now. With so many executive suites and meeting room rentals in Atlanta, your small or e-commerce business can put up your best impression in front of clients.
Setting up a big office requires a lot of resources, but don't worry. With virtual office space in Atlanta, you can present your brand in the best light in front of investors and board directors.
This will not only impress them but can make that investment process move forward. You can also get privacy in your own boardroom, as it is more sophisticated and allows you to present your business presentations and goals with more confidence.

Virtual Offices Enhance Work Efficiency:

Many people have become comfortable with working from home and have sought remote job listings more since the COVID-19 outbreak. It's been a lot easier for them to manage everything from the comfort of their own home and do tasks on their own time.
Managing an entire business online might be difficult, but virtual offices can make it ten times easier. These offices are specifically designed to satisfy all of your company's needs and offer on-demand services such as virtual assistants, virtual call answering services, meeting room rentals, and even the ability to acquire an entire office space for rent.
You may simply manage your customers' queries and complaints with a virtual assistant without putting a strain on your employed workers. This also makes your work more efficient because you can concentrate on growing your business rather than on your electricity bill, office space lease, and upkeep.
Overall, you can get a great virtual office space in Atlanta, by calling us or visiting our website; https://nexus1201.com.