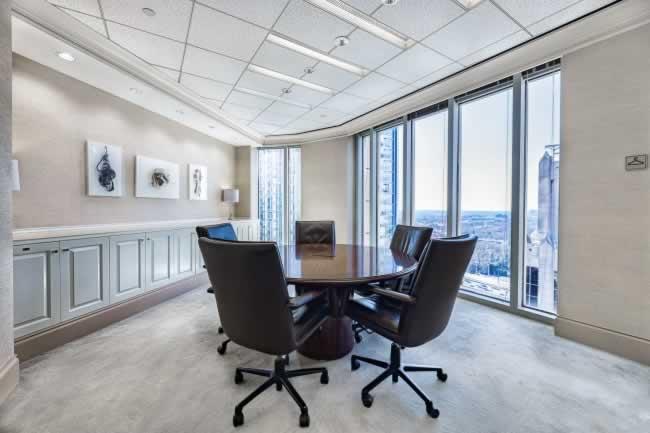 The work-from-home culture has been making rounds globally in the past couple of years. Many business owners have set up virtual offices in Atlanta for convenience and adaptability per their requirements. Although an online workspace is an innovative and unique idea, it is challenging to work one's way through it sometimes. That makes it attractive to the younger generation stepping into the business world. Virtual tools facilitate general office tasks like assigning projects, gathering feedback, and administering the overall workflow. If you want to kickstart your business with an online workplace, Nexus 1201 provides an all-inclusive and elite setup so you can thrive professionally. 
Advantages of Renting a Virtual Office in Atlanta
The remote work culture has brought many perks to the business industry, like saving money on rentals, flexible timings, and enhancing credibility. To gain a complete understanding of these benefits, we suggest that you read this article thoroughly. 
Enhance Reliability
A prominent benefit of an online workplace is the access to a prestigious physical address without owning an on-site place. It is essential to have this in the major cities of the United States to build your business's credibility. A popular concrete location connected to your virtual office in Atlanta, GA, can help strengthen your reputation and prominence. It creates a shared platform for like-minded entrepreneurs to boost their productivity and performance. 
Decrease the rental costs with the Virtual office in Atlanta, GA
If you have just entered into the business world, chances are that you will be restricted on the budget. A physical workplace brings many expenditures like rent, management fees, utilities, furniture, and higher employee salaries. A virtual office space will be your savior if you want to save thousands of dollars. The money saved can be utilized for commercial expansion or worker recognition. Nexus 1201 offers a cost-effective virtual set up to focus more on your business and less on scrimping. We offer affordable pricing for online workplace services.
Steer Clear of the Commute Hassles
A significant number of employees quit their jobs or are skeptical about starting one due to lengthy routes they have to follow every day. It is not only expensive but time-consuming and exhausting, which can automatically reduce productivity levels. A virtual office space saves you from these problems by providing virtual meeting room rentals. You can reserve your time, money, and energy to improve business. 
Boost Team Productivity
The remote working arrangements assist the workers in achieving a well-maintained work/life balance. The employees feel less stressed about their job and more connected to their personal lives while completing their tasks on time. A lower stress level makes for a more productive workforce which can be an asset to your business. Flexible schedules increase their morale which automatically nurtures the company. 
Extensive Talent Pool
Does your ideal candidate have a residence in a different city or country? If you are worried about losing a potential candidate because of this reason, then a virtual office in Atlanta, GA, can be your solution. It will provide you with greater chances of finding a more diverse workforce. A remote arrangement assists the recruiters in approaching people from all across the globe with different intellectual abilities and cultural backgrounds. An on-site workplace can reach people limited to a specific area or city, which is not an issue in an online setting.
Expand your Business
Do you want to broaden your business but are worried that it might outgrow the current workspace? Then a virtual office can help you. It does not limit your possibilities to certain physical locations because you can boost the business in several parts of the world. The best part is that you do not have to stress about spending a lot of money and time creating a new place for expansion. 
Short-term Financial Commitments
An on-site office can make you bound if you sign a lease agreement because you are susceptible to renting the place for at least a year in this case. It can put new businesses at great risk because there are finite options in case of downsizing. On the contrary, virtual offices come with short-term financial agreements, which are monthly and have the option of cancellation at any time.
All Services at One Place
Starting a business of your own will require several office facilities like fax, online conferences, scanning, and whatnot. The virtual office in Atlanta can facilitate you with all these amenities in one place, and they can be accessed at any time. 
Contact our professionals for all the details on online workspace arrangements we provide and enjoy premium services at affordable prices.
We arranged a list of commonly asked questions on the above topic so you can find some additional information.
Frequently Asked Questions
How do I create a virtual office?
Different steps to set up a virtual office in Atlanta include:
Developing a strategy
Establishing your business.
Acquiring the relevant tools and equipment.
Getting a physical address.
Are virtual offices legal in the USA?
A virtual office is not a legal US entity but only an online arrangement. However, you need to comply with the legal requirements that apply to the non-US service markets.
Is the virtual office a good idea?
An online workplace is a great option are a young entrepreneur who is tight on your funding since you do not have to pay for annual lease agreements or office utilities