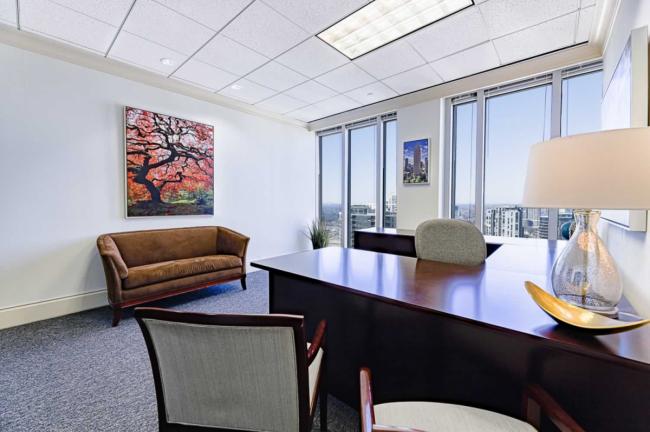 Running a small business isn't easy, and if you are venturing into an industry, it can be even more difficult due to limited funds availability. If you want to make profits as a small or new business, you have to control your costs and keep them as low as possible. The office building and the costs associated with it are some of the most significant expenses for a small business. By eliminating these costs, you can save yourself a substantial amount of money. If you are in Atlanta, then virtual office services offered by us at Nexus 1201 can help you in keeping your business costs and make sure you can maximize your profits. A virtual office provides you with all the facilities of a physical office minus the costs and management fees associated with it. You don't have to worry about things such as arranging furniture, leasing a building, hiring a maintenance crew, and other expenses by going virtual. Not to mention you can save a lot of time by going straight into the business market without having to make all these arrangements. Still not sure how virtual offices can help reduce expenses? Then we suggest you read on to know details about how virtual offices can save cost.
How can having a virtual office in Atlanta reduces costs for your business?
The most important reason why you should consider getting a virtual office from us in Atlanta is that you don't have to worry about renting costs. Renting a building on a long-term basis is arguably the highest cost a new business owner worries about. There are additional ways a virtual office can help you save costs, as explained below:
No utility bills: When you avail of our virtual office services, you do not have to worry about electricity, telephone, internet, and other utility bills. You can utilize all of our virtual office service features by paying a fixed monthly fee; it includes all the tools you need to run a business smoothly. A virtual business address can be all yours while saving the cost of paying utility bills, and you can use the saved money to invest in other core business functions.
Fewer employees: When you are running your business virtually, you only have to hire essential employees to establish and grow your business. That means you don't have to pay salaries to cleaning crews, security personnel, building maintenance team, and other positions needed to run a physical business. We manage your virtual office for you at a fixed monthly cost-saving you time and money.
Reduced maintenance costs: Remote operations mean you won't have to spend thousands of dollars each year maintaining the physical office building. From electrical appliances, furniture to more complex office components such as a central network server, all these components require constant care and upgrades as your business grows. However, when you are using our virtual office services, all the maintenance is managed by us. If you need more functionalities as your business grows, you can upgrade your package with us and avail better virtual office facilities.
So, there are several ways you can reduce your business's cost by going virtual. And if you are looking online for virtual offices near me, then you can skip all the trouble and contact us for all your virtual office needs.