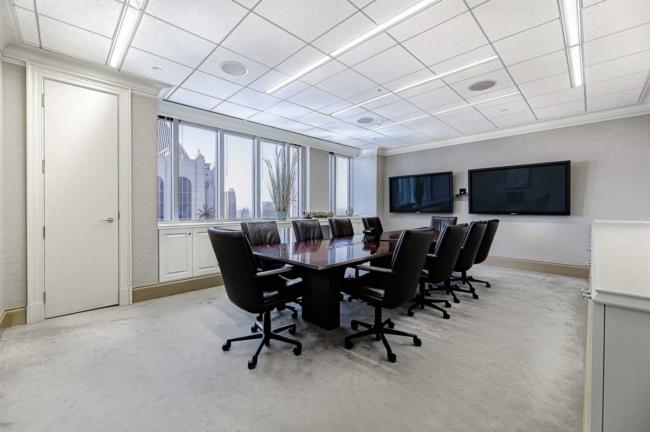 Are you a small business owner, freelancer, or employee looking for flexible space to work on a one-off basis? Our meeting room rentals offer the perfect solution. So, if you are in Atlanta looking to rent meeting rooms, following are the facilities you can benefit from.
Adequate Floor Space
You don't want people to feel tired during the meeting, do you? This is the reason we have large spaces on offer. Everyone would have a comfy chair to sit on or get a seat at the table. Therefore, book appropriate-sized meeting rooms when looking to rent such a place.
In case you are unsure of the number of people expected to attend, just book a bigger room. This won't set you back much in terms of finances.
Prime Location
Location plays a major role in where you rent the meeting room for both convenience and safety reasons. You want all employees and other attendants to reach the venue easily. That will be hard to do if the place is in the middle of nowhere. However, Nexus 1201 offers you executive space right in the heart of the city in One Atlantic Center.
Air Conditioning and Central Heating
It will be hard to stage a productive meeting in the summers if the rental room doesn't have air conditioning. Similarly, if the temperature is too low during winters, the attendees will have cold hands and chattering teeth. This will ultimately prevent them from giving their full attention and putting forward creative ideas during a meetup.
So, to ensure ease and comfort of all participants, we provide full heating and cooling in all the rooms. To find out more, contact and rent a meeting room for a day with us!
Meeting Room Rental Prices
The first challenge for any person is to find a meeting room within a specific price range, as no one has an unlimited budget. But rent isn't the only cost you have to worry about. The companies that offer rentals at cheap prices will always charge extra for other services like coffee, tea, catering, video conferencing, etc.
That's what separates us from the rest. We keep the prices reasonable for you with all basic facilities included. Take a look at these attractive rental packages on the website today!
Power Sockets
It's obvious that your attendees will have laptops, smartphones, and other such devices which they'll be using throughout the session. This will create a need for plug points. Here again, Nexus 1201 stands out from the rest.
You'll find various power sockets around your designated space so that no participant has to worry about their device(s) running out of battery. This might not seem very significant, but it's actually quite an important factor to consider when looking for a meeting room rental near you.
Connectivity
Strong and super-fast Wi-Fi facility is available in all meeting rooms so that you don't have to deal with any connectivity issues. The credentials are shared with your team the moment you book a room with us!
High-Ceilings
Low ceilings can make people feel claustrophobic and suffocated. They can also make the lighting feel somewhat inadequate. Moreover, the room looks smaller than it actually is. But these things won't be a problem when you conduct a meetup at a Nexus 1201 facility. We have spacious rooms that can cater to your every need.
So, if you're looking for meeting room spaces, contact Nexus 1201 for booking now!
Also, if you are searching for virtual offices near mega cities, we've got a solution for that too. You can book meeting spaces and private offices for as much as 16 hours. Virtual services are available too!
Check out all details on the website. www.nexus1201.com